Google Photo Insights: More Photos = More Clicks
If you have a Google My Business account (which you should), I'm sure you've noticed Google's not-so-subtle attempts at getting you to add more photos. The search giant even has gone to the point of saying "post more to stay ahead," and "businesses with recent photos typically receive more clicks to their websites."
More clicks? Yes please! Okay Google, we're intrigued. Keep reading to learn how providing more photos can help your business and what types of photos you need to get started on this path to more clicks.
Google Really Wants Your Photos… Here's Why You Should Care
According to Google, "Your listing is a great place to showcase the photos that capture your business. Businesses with photos receive 42% more requests for driving directions to their location from users on Google, and 35% more clicks through to their websites than businesses that don't have photos."​
For most of us, this is reason enough to allocate resources toward keeping Google well-fed with photos. As a general rule, when Google advises that you need to do something as a best practice, its developers will reward those businesses who choose to follow those practices. But while the initial setup is relatively quick and painless, the key to driving more clicks will be in frequently updating photos, which is where most businesses will fall short.
Managing Your Google My Business Photos: Where to Start
Google provides several recommendations for the types of photos you can leverage in Google's help section, but we will spare you the extra click and quickly summarize:
Profile photo: Your profile photo is not to be mistaken for your logo, which has its own spot in this list. This picture will display next to your cover photo on your Google+ page as well.
Logo: Square-sized logos display best on Google, although the GMB platform does allow you some flexibility to scale the view when you upload.
Cover photo: Choose something that really showcases your business, because this will display on Google Maps and be the cover photo on your Google+ page. When selecting a photo keep in mind that it will be cropped to fit a 16:9 aspect ratio.
Additional photos: This one is somewhat open for interpretation. Google categorizes additional photos as "different kinds of photos to spotlight features of your business that customers consider when making purchasing decisions." We'll provide more detailed examples below, but we recommend uploading photos of your products and staff on a monthly basis.
Business-specific Photos and How to Keep them Current
We alluded to this earlier, and we'll say it again: recent photos are the key to success. This isn't a one-and-done scenario, and by treating your GMB listing photos as an ongoing project, you have the opportunity to edge past your competitors.
Google is kind enough to provide several specific examples of the types of photos to provide in this "additional photos" category, which include:
Exterior and interior photos of your business: Google suggests providing at least three of each in order to help customers identify your business on their first visit.
Product photos: Showcase at least three photos of your most popular or identifiable products.
Photos at work: Be sure to upload at least three photos of the services you offer.
Food & drink photos: if you provide food and drink, Google recommends at least three photos to provide color and detail to the menu.
Common areas: if you provide accommodations, show three photos of common areas in order to appeal to business and leisure travelers.
Rooms: This is key for hotels, because customers rely heavily on room photos when deciding where to stay on their next trip (and you guessed it, at least three photos).
Team photos: Show off your staff to give your business a more personal feel.
Photo Insights and How to Track Your Success
Google now provides photo insights with competitor tracking. This gives you a window into how people are using Google to find your business, what they are doing once they find you, and how your results stack up to the competition (or "similar business", as they categorize it). To access it, go to your Google My Business dashboard, click on manage business, and at the top, click on the insights tab. Scroll down and you'll see the photos section for insights.
Here's an example from Search Engine Roundtable of what you can see in this section:
And a few more from blumenthals.com: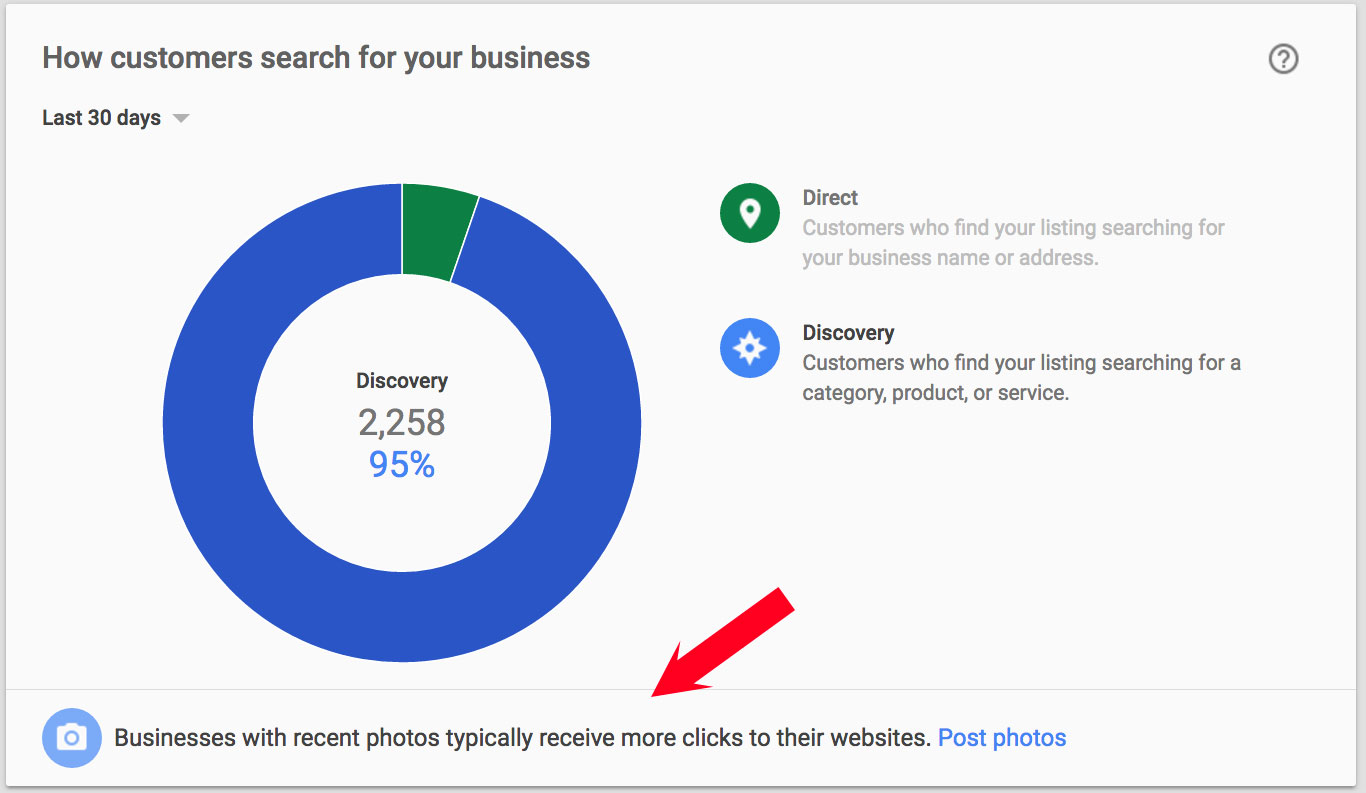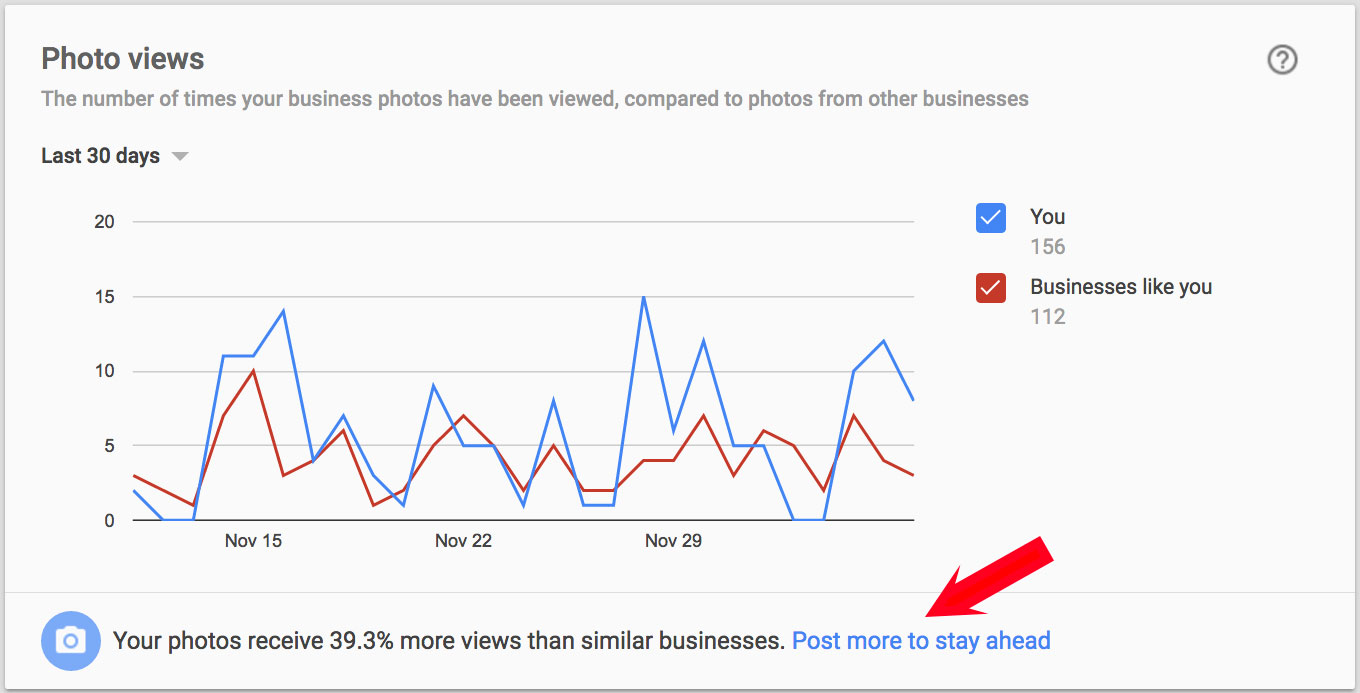 As you can see, Google is providing a fairly intensive level of reporting for your photos and how they're performing in terms of generating visibility and clicks. The fact that Google feels that this feature needs this level of reporting only underscores how important it is to feed your listing with a steady stream of recent photos.
Get Started Now with LeadBuilder
Photos are becoming a driving factor in differentiating your Google My Business listing, and they can help to fuel your local SEO success. We're seeing real results across the board for home services businesses, particularly with businesses that are regularly updating their GMB photos.
Fortunately for our clients, Google My Business management is included in all LeadBuilder packages. Don't have the time or resources to keep your photos up-to-date? Upgrade to social consulting and we'll upload and manage all of the photos you take, ensuring you're always one step ahead of the competition.
---
Krystina Lisi is a Local Search Strategist at Mediagistic. She's an Internet enthusiast with a passion for Google Maps, YouTube, and Social Media. She also is an amateur photographer and Netflix binge-watcher who enjoys 90s sitcoms and sketch comedy. Connect with her on LinkedIn or follow her on Twitter @krystinalisi.